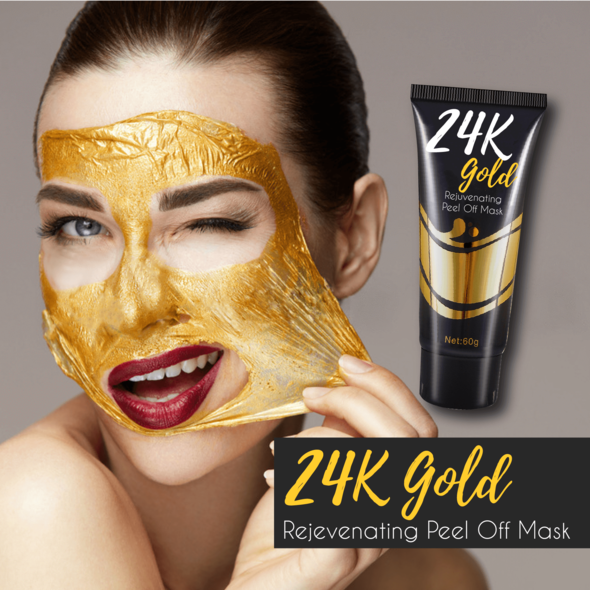 The key to a youthful look.
 Our 24K Gold Rejuvenating Peel Off Mask visibly firms, lifts, and tightens skin from every angle, so as to address the appearance of uneven tone, loss of clarity, fine lines, wrinkles and enlarged pores to rejuvenate your skin with radiance and elasticity.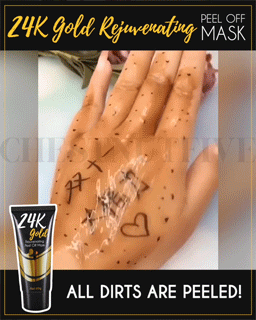 Simply apply the mask and peel it off after dried, with gentle exfoliation to remove blackheads and minimize pores, it also deeply moisturizes, instantly reduces the look of puffiness, sagging, expression lines, and other visible signs of ageing that can contribute to loss of facial definition.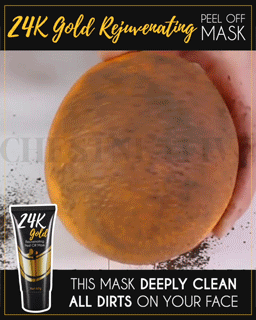 Enriched with 24K nano-gold, the particles penetrate the dermis rejuvenating collagen deep into the skin and activating cell renewal, eliminating toxins, promoting optimal conditions for the skin's natural beauty cycle and brightening uneven skin tone for restoring youthfulness. 
FEATURES:
Reduction of Wrinkles, Fine Lines & Blemishes :
24K Gold activates the basal cells of the skin, which increases the elasticity of the skin.
Stimulates Skin Cells :
 This leads to improved blood circulation and increased metabolism of skin cells and secretion of the waste.

Anti-Aging & Rejuvenating :
The use of gold can reduce the dryness of the skin and help in increasing the metabolic rate. This would prevent the skin from premature ageing.
Blackheads Removal & Pores Minimizing :
Gentle exfoliation to eliminate blackheads, acne, imperfection and deeply cleans pores for acne-free skin. 


Brightening to Reveal Radiance :
Gold has brightening properties, which help to brighten and remove uneven skin tone. 
Improves Elasticity & Firming :
This will further prevent the skin from sagging. Gold increases the elasticity of the skin, thus making it firm and toned.

Moisturizing & Nourishing :
Long-lasting hydration to improve resilience and firmness while providing softening and smoothing benefits.

Boosts Collagen Regeneration :
24K Gold slows down the depletion of collagen, hence resulting in youthful, glowing skin.

For All Skin Types & Body Parts :


Dermatologist Tested; no side effects, safe for all skin types.

Easy To Use :


Just spread a suitable amount and let sit for about 20 minutes, no need for other tools to cure, just let dry and peel off.
HOW TO USE:
Wash your face with warm water and cover it with a hot towel to open the pores for better penetration of gold particles.

Spread the 24K Gold Mask gently on your face and wait 10-20 minutes for it to dry.

Peel off the gold mask gently from chin to forehead.

Rinse with cold water and for the best result, you may apply your daily skincare products afterwards.
SPECIFICATIONS:
Main Ingredients: 24k Gold, Collagen, Glycerin, Sodium Hyaluronate, Pentylene Glycol, Honey
Weight: 60g
PACKAGE INCLUDES:
1pc x 24K Gold Rejuvenating Peel Off Mask