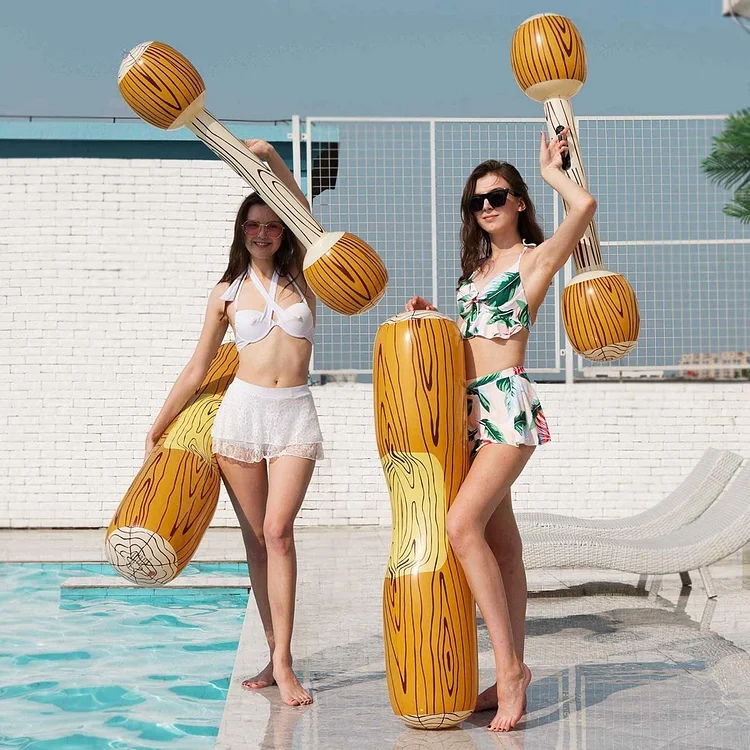 Inflatable pool float set includes 2 sitting logs rafts and 2 walking sticks. There is a recessed design on the logs rafts, which is convenient for you to sit on it stably.

Large Size: Sitting log size is 57" x 14" (length x height). Walking sticks size is 45" x 8" (length x height). Each log can bear 220 lbs. Suitable for adults and kids.

Pool Game Toys for 2 Players. The players sit on the floating log rafts and hold the walking stick. And come to a real "fighting" with friends and family on the water. After fighting, who is still sitting on the log raft wins.

Easy to Inflate and Deflate. Light weight. Easy to Carry & Store. You can take it to a journey, lake, or beach. Durable Inflatable Swimming Pool Games Set is made of plastic.

Versatile Pool Toys: Fun for pool floats, swimming pool games, pool toys, pool party,
float,summer party favors, activity, ceremony, carnival, school classroom, birthday party, summer gift, ocean, lake, river, or pool toy.