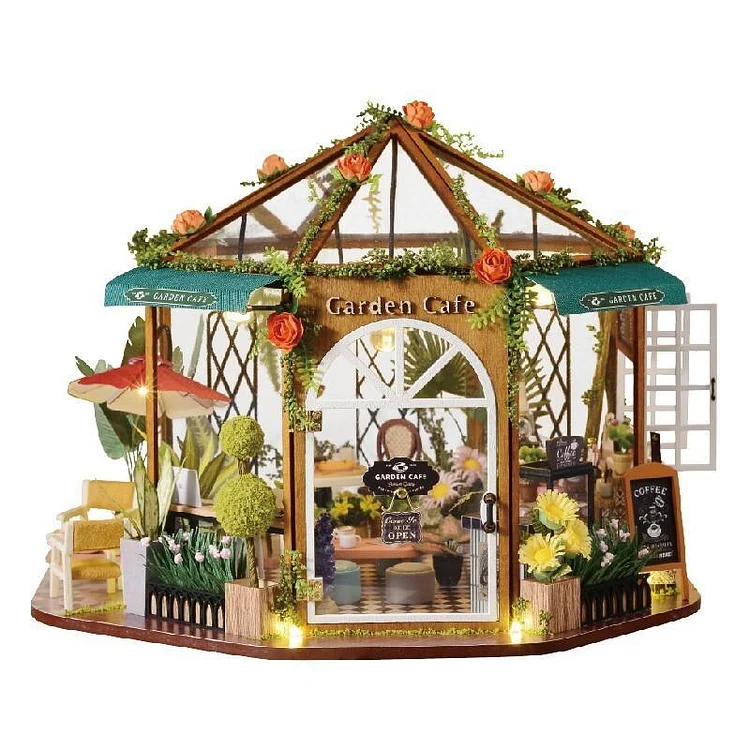 Why Miniature Crafts?
✔️ Inspire Imagination & Creativity
✔️ Encourage Learning, Concentration & Patience
✔️ The Ultimate Bonding Experience
✔️ Perfect As A Gift
✔️ Stress Relief (Take Your Mind Off)
Furnished With Premium Accessories And Decorations - Every item in Aerial's Garden Café is carefully considered and meticulously crafted to ensure that they are of quality and complement each other effortlessly.
Peculiarly Inspired To Combine The Best Of Both Worlds - Taking inspirations from numerous greenhouses and cafés alike, Aerial's unconventional Garden Café was uniquely made to incorporate characteristics from both places!
Realistic Flowers And Hardware - The accessories have been faithfully compared to and designed alongside real plants and appliances to bring about an accurate representation and genuineness to them.
A Timeless Work Of Art - Fusing both the elements of a greenhouse and a café, and subsequently expressing it in a single body makes Aerial's Garden Caf

é a beautiful masterpiece that will garner admiration endlessly throughout the test of time.
Craft Your Very Own Greenhouse Café From Scratch - Dive straight into constructing Aerial's Garden Café with all the raw materials and resin sculpted pieces as you explore your creativity and let your imagination run wild!
No Additional Tools Required

 

- Everything you need to build Aerial's Miniature Garden Café is provided inside our kit. 

Simply unbox and start constructing!