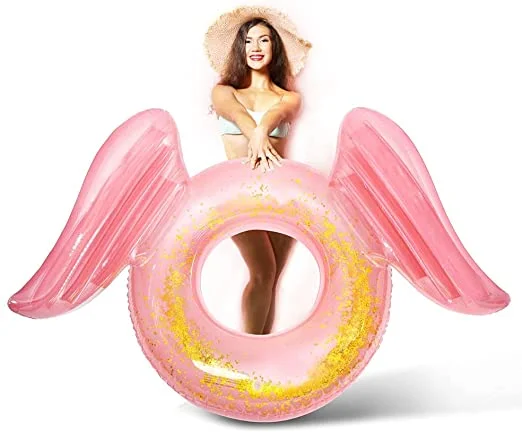 Angel Wings Sparkle Swimming Float - The sparkling inflatable pool tube will make a BIG splash for a fun filled summer. The colorful swimming pool floaties design makes the float a great decoration for your swimming pool. There are sparkling confetti glitters inside, which can make you stand out in the pool.

PREMIUM QUALITY - The glitter pool float accessories are made of premium PVC, friendly to kids and adults. The angel floaty has no peculiar smell, it is not easy to leak after pumping up. A smooth surface is for anti-scratch performance as well as avoiding any rough edges. It is durable enough for long-term use, an ideal choice for swimming, pool party or other water activities.

UNIQUE & USER-FRIENDLY DESIGN - The angel wings and glitter sequins inside are special features this summer. The swimming pool float with a sparkling angel design is beautiful! It shines, sparkles, and reflects the sun with a color-changing effect. The swimming ring floaties were designed for fun and kids or adults who want to make fun at the pool. The sequin angel design makes you eye-catching in the pool!

DOUBLE SAFETY - The inflatable angel pool float designed with glitters, more visible for safer swimming in water which helps to catch your kids or partners easily. The swimming pool tube valve is double protected with leak-proof nozzles, feel free to play on the water, double safer.

EASY TO USE - With an upgraded valve, it is easy to inflate the glitter angel floaties and reduce the probability of and air leakage. Use a pump or exhale air into the quick valve to easily inflate the tube within minutes. With a built-in valve barrier, it can effectively reduce the probability of air leakage. It's very easy to use and great for vacations and traveling.

EASY TO CARRY and SETUP - The glitter pool float is lightweight and can be easily stored like a foldable umbrella, convenient to carry anywhere. Simply inflate this pool floaty and toss it in the pool with the rest of the colorful pool toys for your summer party. Relax, float around, and soak up the sun while lying on this vibrant pool float!

SUITABLE FOR BOTH KIDS AND ADULTS - Providing great buoyancy in water. Perfect for swimming, pool party, beach, seaside, other water activities and enjoy your summer water fun. Our glitter swim ring is perfect for swimming pool party decorations, summer gifts, summer party decorations, summer fun and it is also a perfect gift for swimming learners.