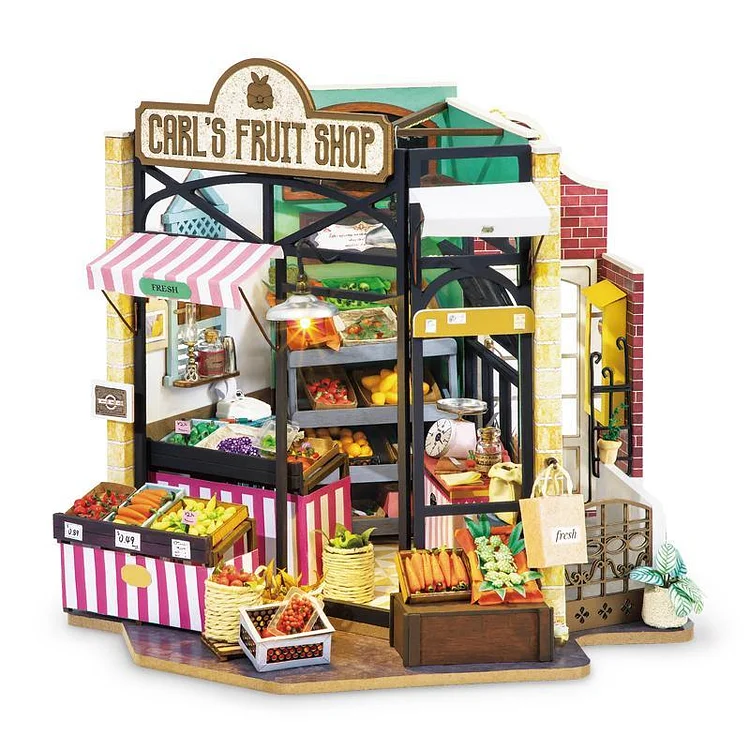 Why Miniature Crafts?
✔️ Inspire Imagination & Creativity
✔️ Encourage Learning, Concentration & Patience
✔️ The Ultimate Bonding Experience
✔️ Perfect As A Gift
✔️ Stress Relief (Take Your Mind Off)
Furnished With An Abundance Of Variety And Decorations

 

- Carl's Fruit Shop is filled to the brim with an assortment of fruits and every item is carefully considered and meticulously crafted to bring about a vibrant and lively nature to the kit.
Realistic Fruit Miniatures And Hardware - Inspired from neighboring Fruit Stores, Carl's

 assortments have been faithfully compared to and designed alongside real fruits and appliances to bring about an accurate representation and genuineness to them.
A Classic Showpiece - Bearing a familiar touch with local Fruit Shops, Carl's Diorama hits close to home and will always be a welcoming piece for conversations in the decades to come.
Craft Your Very Own Fruit Shop From Scratch -

 

Dive straight into constructing your very own neighborhood Fruit Shop with all the raw materials provided as you explore your creativity and let your imagination run wild!
No Additional Tools Required

 

- Everything you need to build Carl's Miniature Fruit Shop is provided inside our kit. 

Simply unbox and start constructing!