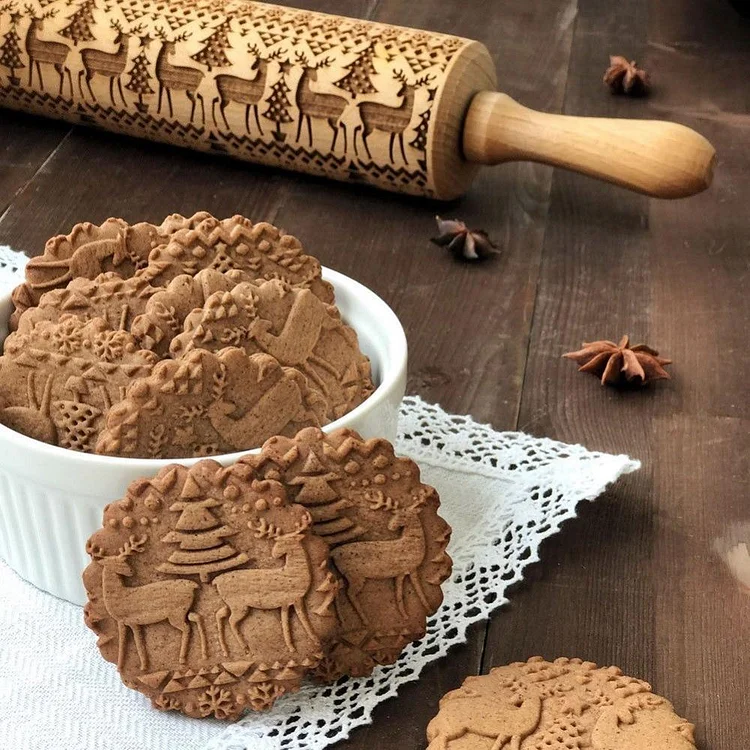 Make a unique and touching gift for any person, family or occasion!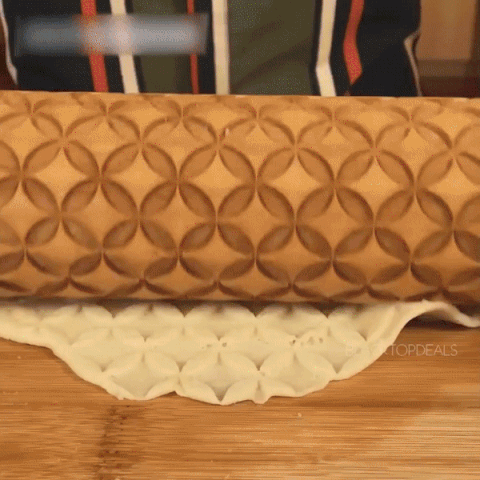 Our Christmas Embossing Rolling Pin is one of the essential tools for any kitchen or engraved keepsakes. They make a unique and touching gift for any person, family or occasion. Perfect for birthdays, house-warming, Christmas, Mother's Day or special occasion. They can even be given out as wedding favors for bridesmaids, groomsmen or couples. Baking with embossing rolling pin can be a fun, especially for kids!
We made many trials and baked hundreds of different recipe cookies until we found the best patterns and created the best design for the rolling pin to get well embossed and beautiful cookies.
FEATURES & HIGHLIGHT:
Made from moisture-resistant maple hardwood - no paint, no wax, safe and environmentally friendly which is AAAAA food Materials
Non-stick

Easy to clean by hand or dishwashers top rack

: Smooth and flat surface, 

stain and odor resistant, dough does not stick like plastic pins. you just need to wash it under the tap water and dry them in the air, then fold the mat and they don't take much space in your kitchen drawer

Easy to use: Equipped with bearings to ensure smooth movement. The easy-to-hold handles prevent unnecessary strain on your wrists, while still giving you control to create uniform and consistent dough. This rolling pin functions as a natural extension of your hands
Exquisite craft: Rolling pins are

 

expertly engraved, sanded and finished

 

to take on your next baking project and make you the star.
The rolling pins are traditional and optimum size with a big surface of engraving.
Dimension of 13.8 inches (diameter 1.65 inches).

Application
With one easy roll, you can transform your cookie and pie doughs and fondant into baking masterpieces. Embossing rolling pins are perfect tool for pasta, cookies dough, pizza, chapati, pies, fondant, clay and much more.

Perfect Gift: 

Rolling-pins can be a really nice housewarming and pretty gift for your friends, kids and your kitchen in any occasion!
RECIPE
You could use our recipe given below its simple and tasty
230g (-1 cup) butter
130g (-1/2 cup) cream cheese 
160g (2/3 cup) icing sugar
1 egg yolk
400g (1 1/3 cup) flour
1/2 tsp vanilla extract
1/2 tsp almond extract
Pinch of salt
1. In a large bowl combine sugar, butter, cream cheese, almond and vanilla extracts, and egg yolk. Beat until smooth
2. Mix in flour until one uniform mass. Separate dough into 2 chunks, cover in plastic wrap and refrigerate for at least an hour
3. On a lightly floured surface roll out one piece of dough until it is about 1/8in (3-4mm) thick. Cut into desired shapes using floured cookie cutters.
4. Preheat oven to 200 degrees C
5. Bake cookies at the same temp for 8-10 minutes or until edges are slightly browned 
6. Remove from cookie sheet immediately and let cool on a cooling rack

The trick to making the best sugar cookies is to cut them thick enough and to time the baking process precisely.