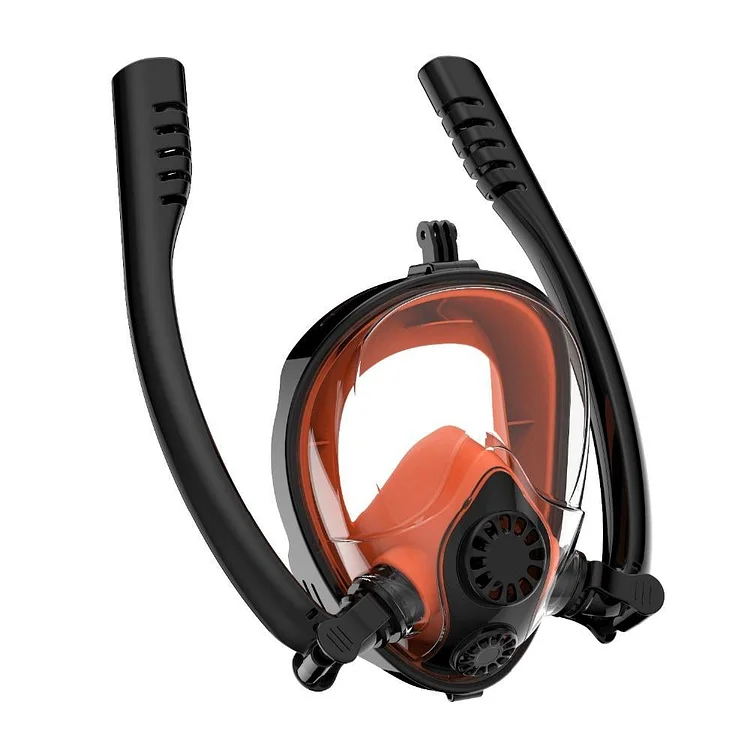 Features:
Respiratory System: one-way external circulation breathing separation snorkeling mask, mechanically isolated inhalation of exhalation and inhalation from the double breathing tube, exhaled carbon dioxide and the remaining oxygen that is not sucked into the body respectively flow out from the outside of the mask, thereby isolating the entry of carbon dioxide into the human body and causing accidents.
External Circulation Natural Breathing: The snorkeling mask allows you to breathe through the nose or mouth in the water.

Leakage: I-shaped breathing waterproof breathing tube helix of face mask frame is 50 degrees waterproof; Exhaust pipe using deep dive special check valve is waterproof.
Clear View: The well-designed  face mirror provides you with good undistorted visibility and maximum field of view, allowing you to explore the wonderful sea view.
How to Wash: Cleanning mask properly after use to keep clear vision and ensure normal ventilation function to prevent fogging.
Storage: Let dry after cleaning, avoid direct sunlight.

How to choose the right size?

Measure the distance between the bridge of the nose and the lowest point of the chin
If the distance is less than 12cm, select S / M
If the distance is more than 12cm, select L / XL
 
Specifications:
Material: Silicone
Size: S/M, L/XL
Packing list:
1 x Diving Mask
1 x Portable Mesh Bag
2 x Waterproof Earplug
1 x Camera Screw
1 x User Manual