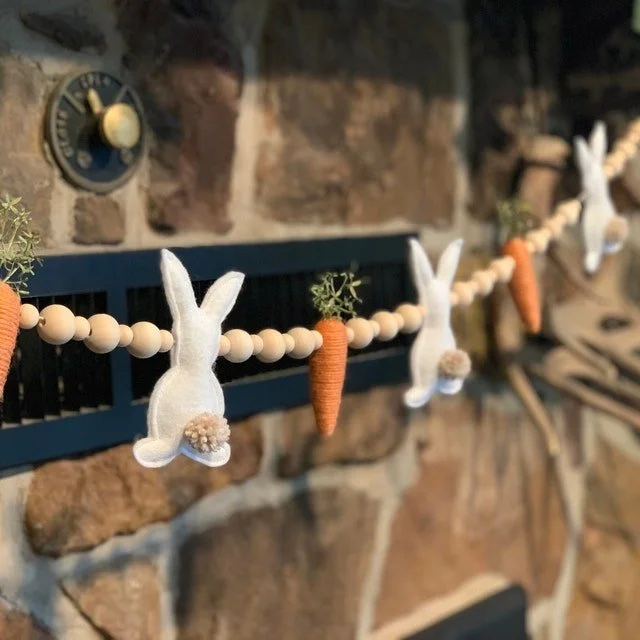 💯Payment >> Support PayPal®
👋Highlights: 100% Handmade
Each piece is handcrafted in the USA
These Easter Bunny Garlands are the perfect addition to you home or party - and are great colors for Spring & Easter! You will love decorating your mantel, stair rail or shelf with this adorable stuffed bunny, carrot and wood bead garland. 
Each bunny is hand cut, stuffed & sewed. Then I make a fluffy tail and adhere it to the bunny.
The carrots are made of orange twine and have a "realistic" green top! The garland is made with a lot of love & care. This garland adds a festive touch to any party or celebration and brings joy to any space.
Each garland includes:
4 handmade 3-dimensional bunnies (with handmade fluffy tail)
5 whimsical carrots
Graduated wooden beads (56 total)
Can be adjusted to desired spacing
Total dimension of garland: 41 in. + 2 ft. of extra cord = 65 inches total.
❤️We pride ourselves on providing high quality home decor at an affordable price. Thank you for supporting our small business.❤️

Offering the greatest customer service is what we strive to do daily. We will go above and beyond to ensure you have a great experience with our shop! If you have any concerns, please do not hesitate to contact us and we will do whatever we can to help. Thank you!