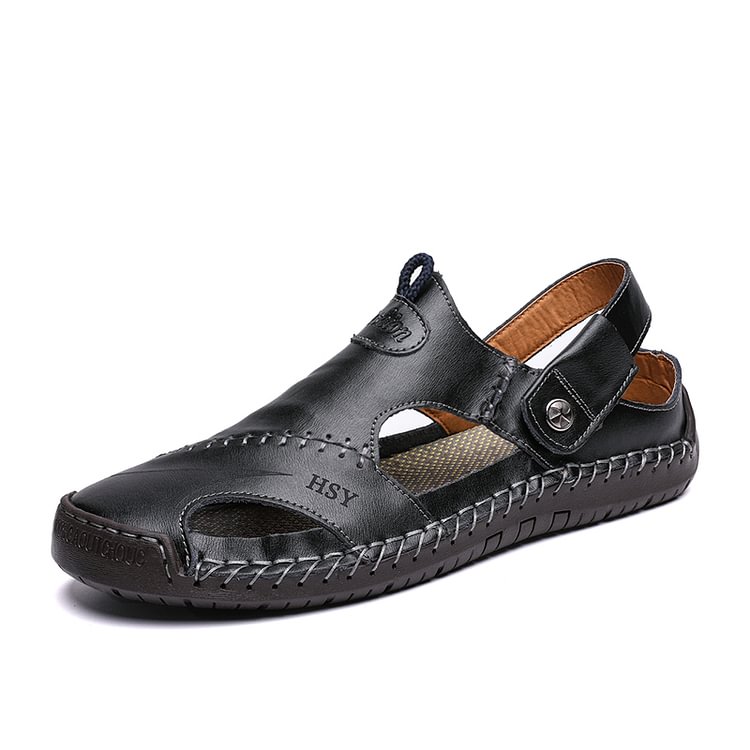 Wearing slippers in summer is a very common thing, but when you need to drive, slippers are not suitable. As we all know, wearing slippers to drive is a dangerous thing, but this pair of dual-purpose slippers is a good solution. this problem.
In your daily use, you can fold the back straps to increase the comfort of wearing. When you need to drive, you can put down the back straps to ensure that the shoes will not leave your feet. The upper of the shoes is designed to protect the toes, which makes it convenient for you to go out and walk in places with debris such as wheat fields and bushes, reducing the risk of toe injuries.
The material used for the sole is rubber, which is non-slip and wear-resistant, suitable for the foot and reduces pressure on the foot.
The upper is made of high-quality leather, which is soft and will not hurt your feet. When assembling the upper and the sole, we use manual sewing. This can ensure that each pair of shoes is strong and can make the customer's use time longer longer.
-Product Features-
waterproof
Easy to clean
comfortable
Multi-purpose
-Product Specification-
Material: artificial leather + rubber
Size: 5-15 US normal size. If your feet are fat or wide, choose a larger size.
Application: shopping, travel, vacation, beach, party, family, etc.

-SHIPPING & Service-
100% Delivery Guarantee. Free Delivery over $49.99. Processing Time : 1-5 Working Days.Estimated Arrival : 7-20 Working Days.We have a 30-day return policy. For more details see Shipping & Returns. Any questions or helps, pls email [email protected] or message us.