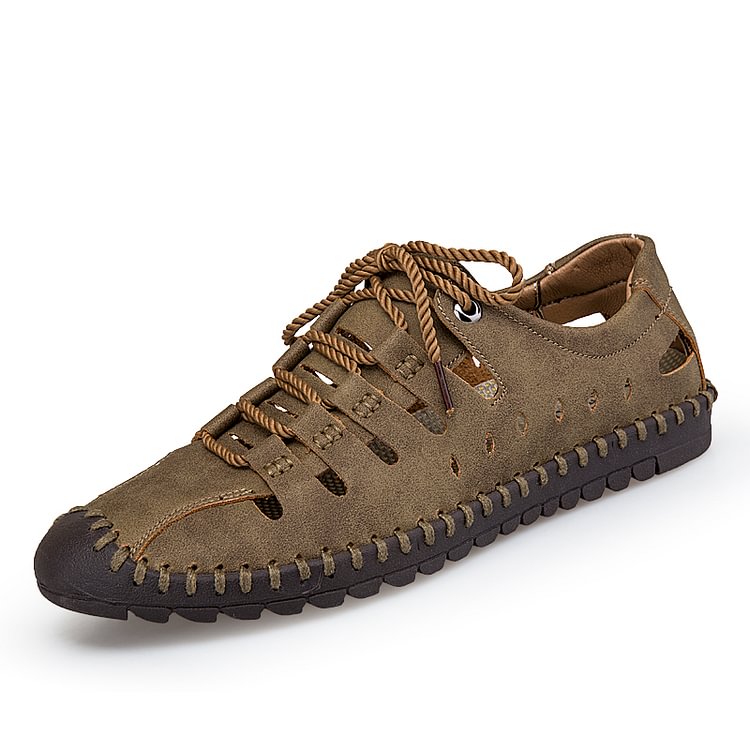 These hollow-designed leather shoes can accompany you through the summer
This pair of shoes is a perfect combination of leather and rubber. The upper is made of high-quality leather, which is soft, breathable and easy to take care of. The upper is designed with a hollow design to ensure the protection of the foot while increasing the breathability. The hollow design can satisfy some outdoor needs. The demand of sports enthusiasts for wading eliminates the need to go barefoot when crossing rivers or ponds, which also reduces the risk of accidental injury to the feet due to exposure.
The sole is made of rubber, and there is a non-slip pattern on the sole. The soles are light and soft, so you don't have to worry about getting tired when wearing these shoes. The soft insoles can evenly distribute the weight of the feet on the soles of the feet, reducing fatigue during exercise. And the hollow upper and the breathable insole can help the air flow inside the shoe, so that your feet won't have peculiar smell.
Our shoes are made by artificial stitching. Every pair of shoes we make is as serious as the first pair of shoes to ensure that every customer has a good experience when wearing these shoes. We treat it like a work of art, serious, rigorous and full of affection.
-Product Features-
Non-slip
Wear-resistant
Flexible
Fit the feet
Breathable
Can wading
-Product Specification-
Material: leather+ rubber

Size: 5-15 US normal size. If your feet are fat or wide, choose a larger size.

Scope of application: Mountain climbing、Snorkeling、Cycling、Fishing、Upstream.
-SHIPPING & Service-
100% Delivery Guarantee. Free Delivery over $49.99. Processing Time : 1-5 Working Days.Estimated Arrival : 7-20 Working Days.We have a 30-day return policy. For more details see Shipping & Returns. Any questions or helps, pls email [email protected] or message us.