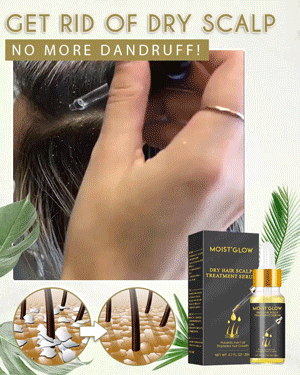 A unique herbs-infused serum that detoxifies, cleanses, and balances the scalp for healthy pH balance scalp health.
No more struggling with dandruff, try Moist'Glow Dry Scalp Treatment Serum now!
Formulated with natural ingredients, that soothe and balance the dry scalp. It gently removes scalp buildup by powerful herbs extract. 
Leave-in conditioner that causes more flakes and residue on your hair scalp, our serum will soothe and balance the dry scalp. 
Suitable for all hair types, can provide maximum protection for you to prevent hair problems.
Instructions:
Apply and massage a 15mm size amount into the scalp gently.

Use twice daily (morning & evening).
Specifications:
Ingredients: Ginseng, Angelica, Walnut Oil

Weight: 20ml
Package Includes:
1 x Moist'Glow Dry Scalp Treatment Serum