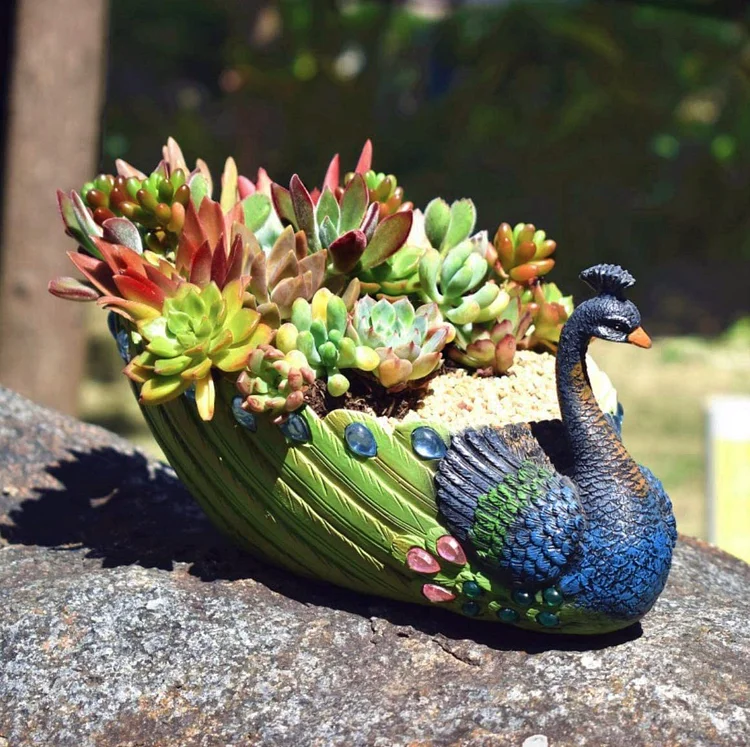 This special peacock container will be the most grabbing and memorable decoration piece.

Perfect for hold small succulents, mini ball cactus, herbs and air plants. Great for decorate windowsill, office, tabletop, shelf, bedroom, kitchen, garden, and outdoor patio. 
There is a small hole at the bottom of the peacock flower pot that allows water to drain through the soil, keeping plants healthy. It's hand painted and polished with vibrant colors, decorated with shiny man-made crystals and carved with unique peacock patterns.
This unique peacock planter is made of high quality and environmentally friendly resin, which will not rot or become brittle with time, nor will it be damaged by long-term rainfall or humidity. The durability and versatility of the resin allows the planter to be used indoors or outdoors.
Size:
10.5 x 7 x 5.5 inch (L x W x H)
Details:
PRODUCTION TIME:
�?Design period 3-5 working days
●Manufacture period 5-10 working days
●Shipping period 3-10 working days