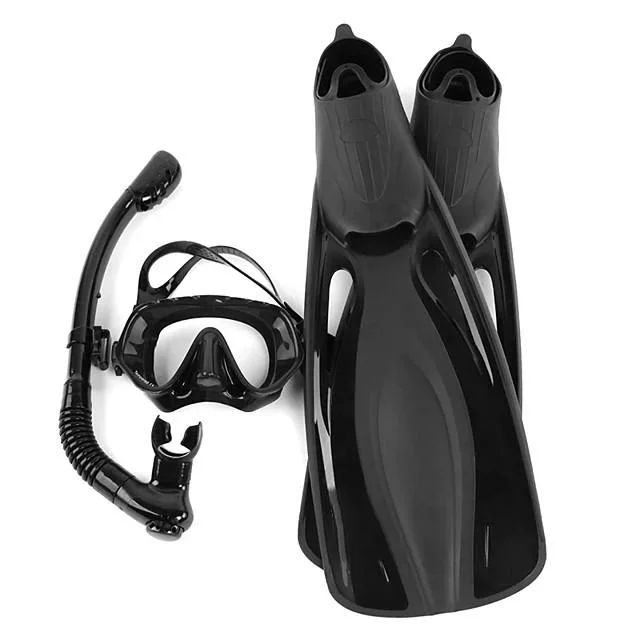 Features:
Sturdy PC frame with PU coating is resistant to corrosion.
Silicone adjustable strap to make a best fit with your head.
Tempered glass lens for resistant to low and high temperature.
Silicone corrugated hose has high flexbility, easy to bend.

Security and non-toxic silicone mouth piece, also soft and comfortable.
Floating ball will close opening to block water when snorkle submerges.
One way purge valve can drain out the water and CO2.
A buckle of the hose to fix the goggles conveninetly.
High flexibility fins also resistant to deformation and break. 
Unique blade design for excellent kick and open toe for easy drainage.
Streamline flipper for better stability and stronger driving force.
A great and necessary set for for diving.

Specifications:
Material:PP, Rubber, TPR, Glass, Silicone
Features:Long Blade, Dry Top, Anti Fog, Anti-fog, Adjustable Strap
Category:Diving Package, Snorkeling Set
Activity:Scuba, Diving, Swimming
Age Group:Adults

Product size as shown:
| Size | US Size | Length | UK Size | Shoe Size | Foot Length | Foot Width |
| --- | --- | --- | --- | --- | --- | --- |
| ML | 8-9 | 22¾ | 7.5-8.5 | 42-43 | 10¾-11 | 7 |
| XS | 4-5 | 20½ | 1.5-2.5 | 36-37 | 8½-9 | 6¾ |
| S | 5-6 | 21 | 4.5-5.5 | 38-39 | 9¼-9¾ | 6¾ |
| M | 7-8 | 22 | 6-7 | 40-41 | 10-10½ | 7 |
| L | 10-11 | 23 | 9-10 | 44-45 | 11¼-11½ | 7½ |
| XL | 12-13 | 23½ | 10.5-12.5 | 46-48 | 11½-12 | 7½ |