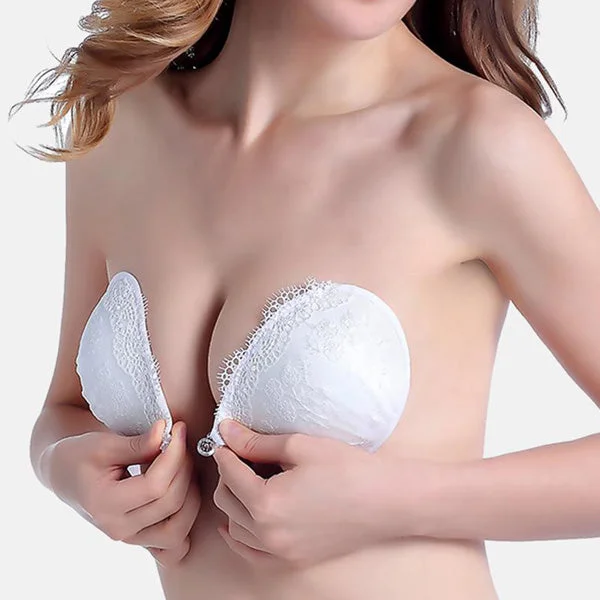 Feel more confident in your wedding dress knowing everything stays in place all day long 
Add more confidence to your wedding look, knowing your decollete looks as gorgeous as possible and everything stays in place perfectly all day long!

Featuring cup and side adhesive and a lace-up front, The Bridal Bra is as discreet as it is dramatic. The tried and true "Comfort-Keep-In-Place-Formula" material inside the cups makes it stick perfectly to your breasts without being sticky.
You might even forget you're wearing anything under your wedding dress. It feels so impossibly natural - like a second skin.
The one little big secret your wedding planner won't tell you
With no straps & backless it is perfect for under your wedding dress and all your favorite plunging neckline or backless dress - all day long.
This bra is superior to many of the other bras on the market and yet priced less. Add another check mark on your list what's important for your wedding day - "What bra will fit underneath wedding gown?"
Features
• "Comfort-Keep-In-Place-Formula" material
• It is reusable
• Adjustable elastic closure
• Fits all plunging neckline or backless dress
• No straps & backless
• Doesn't move, everything stays in place, all day long!
Size Chart
With this bra you are supporting breast cancer research projects
Wear this bra with pride, knowing that a % of your purchase goes towards breast cancer research projects! Thank you for your support!
Our Guarantee
Live tracking & free shipping on all orders. Not satisfied with your order? No worries! Please reach out to us so we can see if we are able to help resolve your issue. We'll come right back to you in under 24 hours. All our shipments have tracking and our 24/7 customer service completes the package. Please watch your spam folder. Thank you!