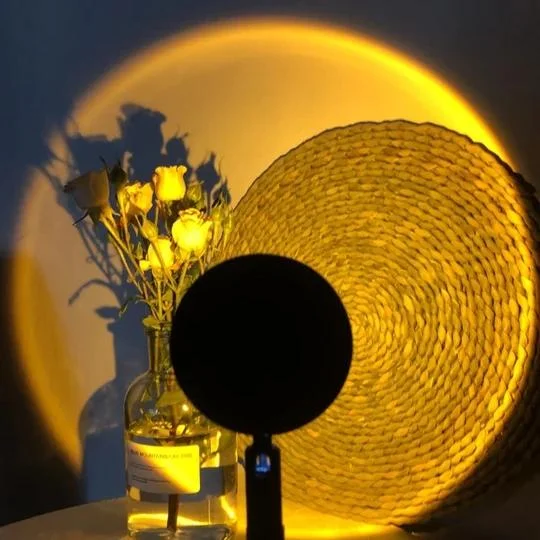 THE BEAUTY OF SUNSETS, IN ANY ROOM😍
Bring the soft warm colors of the sunset into the comfort of your own home. Your home is your sanctuary, and your environment affects your mood.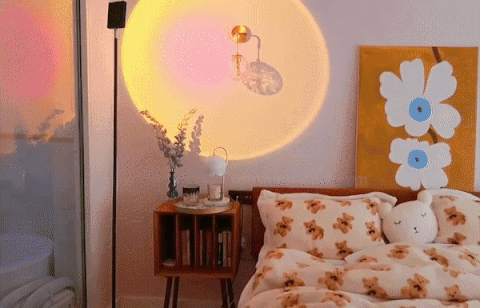 DESIGN:
Inspired by the Scandinavian phenomena called 'The Midnight Sun' , The High-Quality Lamp projects a vast variety of toned Lights, which gives an extra dash of Color to your Room. Perfect for a Vivid or Calming Atmosphere.
CREATING A BRILLIANT ATMOSPHERE:
Soft lighting bring different effects to your bedroom.
The sunset lamp head can be rotated 90 degrees, can produce different lights from different angles, so as to bring different effects to your room. The rotating position adopts a mixed metal of iron and aluminum, so there is no need to worry about frequent turning to cause product damage.
RELIEVE STRESS & ANXIETY:
Lights that mimic sunset help to calm your mind. Relax, play some lo-fi music and embrace your own personal sunset from the comfort of your home.
Soft sunset collars create a calming ambience to your room's aesthetic, that will help you ease your mind from day to day stresses. Let the warm colors of the sunset transform your room into an environment filled with positive energy.
CREATE PERFECT INSTAGRAM PICS & TIKTOKS:
Simply plug in your Projector, Angle it, and Boom! You're ready for a unique Photoshoot that will amaze your Audience. A Favorite for Photographers, Influencers, and Content Creators alike.
Like a pocketful of sunshine, our Sunset Projection Lamp has wide projection angles and vibrant colors that can transform your room into an eternal dreamscape ready to capture. Our lamp is perfect for photoshoots with friends or even just Vibing out.
ROMANTIC VISUAL EXPERIENCE:
If you dream of having a Warm, Comfortable and Relaxed Home Environment, this SUNSET LAMP is a must. Modern LED lights make your bedroom and living room energy-saving and improve your quality of life.
Red room Decor Sunset  lamp allows you to have a Romantic modern environment with art deco design perfect for living room and home. Bring Happiness to Family and Kids.
FEATURES:
Energy saving

Made From High Quality Aluminum

Easy Use

180 degrees rotation

Stable and durable

Multi-functional
HOW TO USE:
 Just plug in the USB LAMP and press the switch. Can be rotated and produce a Rainbow projection light effect.
SPECIFICATIONS:
Voltage: DC-5V
Size: 25*12cm 
Product weight: 500g 
USB cable length: 1.2m 
Material: Aluminum + ABS 
Package Include: